Diamond Princess crew 'desperate for help' as virus tightens grip
Diamond Princess crew 'desperate for help' as virus tightens grip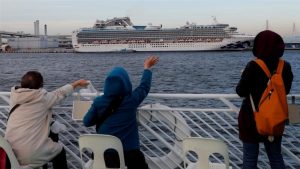 With a total of 531 crew and seafarers, Filipinos make up half the staff of the Diamond Princess cruise ship that is quarantined in Japan's Yokohama port because of the coronavirus, and as the illness spreads, they are becoming increasingly worried.
On Thursday, health authorities in Japan said 44 more people had been confirmed with the infection, bringing the total to at least 218 passengers and crew, as well as one quarantine officer.
Among those crew who are infected, at least 12 of them are Filipinos, according to Japan's health ministry, raising alarm among family members back home, as well as fellow crew members who continue to work under quarantine conditions.
The nationalities of at least three other sick crew members remained unknown as of Thursday.
While news reports are focused mostly on the 2,670 passengers of the ill-fated ship, its 1,100 crew members are on the front line, as they race against time to contain the spread of the virus inside the ship, keeping the vessel clean, while continuing to serve the passengers who have been confined mostly to their cabins.
In a social media post, Leigh Antonette Barruga from the Philippines said her brother, Paolo, is a crew member of Diamond Princess, and that her family is "heavily distressed" over the situation.
"What we can ask right now is for prayers, and to ensure the safety of the crew members and hopefully, receive medical attention," she said.
"Their situation on the ship stresses them out and that could cause their immune system to weaken making them more vulnerable to the virus," Yu added. "We're desperately seeking your help. Please let them go back to their families and loved ones. It would put our minds at ease if you would just kindly let them go back home."
Al Jazeera reached out to Paolo, as well as several other crew members, but they did not respond to requests for interviews.
According to his social media account, he started working for Princess Cruises, which operates Diamond Princess, in October 2018.