India unemployed numbers pass 120 million in April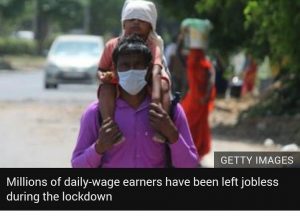 A lockdown to prevent the escalation of coronavirus has seen 122 million Indians lose their jobs in April alone, new data from a private research agency has explain.
India's unemployment record now topped 27.1%, according to the Centre for Monitoring the Indian Economy (CMIE).
"The new data shows India's unemployment figures are four times that of the US.'
The country has been in lockdown since 25 March to to prevent Covid-19 spreading around, causing mass layoffs and heavy job losses.
India currently has not less than 50,000 reported infections.
Unemployment hit 23.5% in April, a sharp rise from 8.7% in March. This is due to the lockdown, which brought most economic activity – except important services such as hospitals, pharmacies and food supplies – to a standstill.
Scenes of stranded migrant workers, particularly daily-wage earners, fleeing cities on foot to go back to their villages, filled TV screens and newspapers for most of April.
"Their informal jobs, which employ 90% of the population, were the first to be hit as construction stopped, and cities suspended public transport."
But prolonged alarms and the continued lockdown of businesses – and the uncertainty of when the lockdown will end – hasn't left out formal, permanent jobs either.
Source___BBC News