Nigeria Confirms 204 Cases Of Corona Virus in One Day, Toll of Infections Now 1,932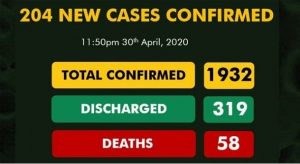 Nigeria has confirmed 204 new cases of the novel Covid-19, bringing the country's infections toll to 1,932.
As seen by the tweet of the Nigeria Centre for Disease Control (NCDC) on Thursday, of the new infections, 80 are in Kano, 45 are in Lagos, while 12 are in Gombe.
Thursday's new cases are the highest confirmed in a day in Nigeria since the NCDC started compiling the virus data in February.
The toll of deaths from the virus also rose to 58 while 319 have now recovered.
Source___Channels TV