Nobel peace prize awarded to Ethiopian Prime Minister Abiy Ahmed
Nobel peace prize awarded to Ethiopian Prime Minister Abiy Ahmed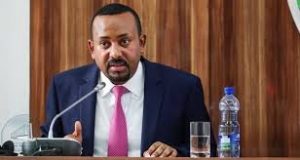 The 2019 Nobel Peace Prize has been awarded to Ethiopian Prime Minister Abiy Ahmed who made peace last year with bitter foe Eritrea.
He was awarded the prize for his efforts to "achieve peace and international cooperation".
Mr Abiy's peace deal with Eritrea ended a 20-year military stalemate following their 1998-2000 border war.
He was named as the winner of the 100th Nobel Peace Prize in Oslo, where he will receive the award in December. It is worth some nine million Swedish crowns (about £730,000; $900,000)
There had been great speculation over who would win the prize, with climate activist Greta Thunberg widely tipped as the favorite. Under the Nobel Foundation's rules, nomination shortlists are not allowed to be published for 50 years, and the organisation says any speculation ahead of the announcement is "sheer guesswork".