Oscar 2020
OSCAR AWARD 2020 Winners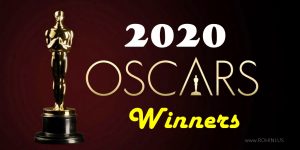 Awards Season is always an exciting time for the film world, as the last year's most acclaimed work is recognized by the film academy. And after the Golden Globes, SAG Awards, and BAFTAs it all comes down to the Academy Awards. Many filmmakers hope to one day get an Oscar of their own.
The 2020 award winners list
1. Best picture : Parasite
2. Best actress : Renée Zellweger, Judy
3. Best actor : Joaquin Phoenix, Joker
4. Best director : Bong Joon-ho, Parasite
5. Best Music (original song) : "(I'm Gonna) Love Me Again" from Rocketman
6. Best Music (original score) : Joker
7. Best International feature film : South Korea, Parasite
8. Best Makeup and hair-styling : Bombshell
9. Best Visual effects :1917
10. Best film editing :Ford v Ferrari
11. Best cinematography : Roger Deakins, 1917
12. Best sound mixing : 1917
13. Best sound editing : Ford v Ferrari
14. Best supporting actress : Laura Dern, Marriage Story
15. Best Documentary short feature : Learning to Skateboard in a Warzone (If You're a Girl)
16. Best Documentary feature : American Factory
17. Best costume design : Jacqueline Durran, Little Women
18. Best production design : Once Upon a Time…in Hollywood
19. Best Live-action short film : The Neighbors' Window
20. Best adapted screenplay : Taika Waititi, Jojo Rabbit
21. Best original screenplay : Bong Joon-ho, Parasite
22. Best Animated short film : Hair Love
23. Best Animated feature film : Toy Story 4
24. Best supporting actor : Brad Pitt, Once Upon a Time…in Hollywood
Parasite emerge as the biggest winner with 4 awards.