Russia set to vote that may extend their president staying in power till 2036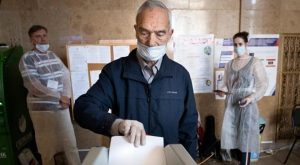 A constitutional vote that would allow Russian President Vladimir Putin to extend his rule until 2036 is set to wrap up after a week of voting.
The countrywide vote on the change that would reset the clock on Putin's tenure to zero and enable him to serve two more six-year terms entered its final day on Wednesday.
Their president is all but guaranteed to get the result he wants following a massive campaign to get Russia's voters to say "yes" to the changes.
The amendments, which also emphasise the priority of Russian law over international norms, outlaw same-sex marriages and mention "a belief in God" as an important value, quickly sailed through the Kremlin-controlled parliament.
Other constitutional changes expand Parliament's role, but they also strengthen the already-powerful role of the president.
The president will have the right to dissolve Parliament if it refuses to support the candidacy of a minister proposed by the head of state three times in a row.
They will also have a greater say over the work of the Constitutional and Supreme Courts and prosecutors.
Source___Aljazeera