Special Movie Awards (SMA)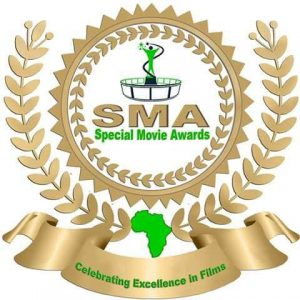 What is the SMA?
Special Movie Awards (SMA) is a Night of Glitz, Glamour, Paparazzi to celebrate Movie Makers in The Gambia.
Who Can Submit a Movie?
Any Movie Maker registered and resident in The Gambia can submit a Movie.
What's the Submission Process?
Your submission should include the following:
1.A completed application form (below)
2. Three DVD copies of your Movie
3. A trailer of your Movie. (Soft Copy in USB Flash)
Submit the above materials to
Afrinity Productions
Office Address:
10 East Street,
Fajara F Section,
P.O. Box 3069 S/K,
The Gambia .
Admin Secretary. +220-7541114,
Program Coordinator. +220-7593462
Producer +220-7294702
Executive Producer +220-7007210
When Are Submissions Due?
Submissions period is from July 1st – 30th 2016
Who Decides Which Movies Will Be Screened?




A Team of International and experienced Movie Jury will screen all submitted Movies and categories for nominations will be selected for the awards.
What Kinds of Movie Are You Looking For?
We are looking for any genre and style of Movie made in The Gambia.
What's In It For Me?
You get to receive Media Publicity
You stand the chance to be nominated in any category
You stand the opportunity to collaborate with international Movie makers.
When is the Movie Award?
The Movie Award is tentatively scheduled for Friday 30th September, 2016
Special Movie Awards 2016
A Night of Glitz, Glamour and Paparazzi
A Night of Movie Stars celebrating creative titles, diverse languages, beautiful colours, melodious sounds, graphical effects, styles and actions
SMA: calling every movie maker in the Gambia to submit all genres and styles of movies made in the Gambia between July 1st and 30th to be screened by a team of international and experienced jury
15 categories
45 nominations
1 night
You won't miss this! Coming to you live in the Gambia on the 30th September 2016
Stay connected….
For more enquiries please call +220 7007210 7294702 3702422 9218375 7541114
SMA
celebrating excellence in films
Taking The Gambia Films to the next level….
Best Leading Male Actor




Best Leading Female Actress




Best Supporting Male Actor




Best Supporting Female Actress




Best Hair/Make-up Artist




Best Costumier




Best Sound




Best Visual Effects




Best Editor




Best Picture




Best Documentary Film




Best Indigenous Film




Best Short Film




Best Feature Film




Best Director
Honorary Awards
SMA Foreign Film 2016




SMA Foreign Director 2016




SMA Foreign Actor 2016




SMA Foreign Actress 2016




SMA Foreign Media 2016




SMA Television Media of the Year 2016




SMA Radio of the Year 2016




SMA individual of the Year 2016




SMA Organization of the yeah 2016




SMA Grand Patron




SMA Radio Media of the Year 2016