Switzerland gets ready to vote on ending free movement with EU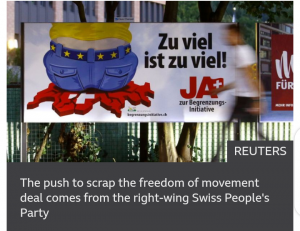 By Amie T. Camara
Afrinity Production unveil the decision to be taken by Swiss voters on Sunday whether to abandon their free movement of people agreement with the EU.
According to BBC, supporters say the move will allow Switzerland to control its borders and select only the immigrants it wants.
Opponents argue it will plunge a healthy economy into recession, and deprive hundreds of thousands of Swiss citizens of their freedom to live and work across Europe.
The justice minister says that would create a situation "worse than Brexit".
Why does non-EU member Switzerland need to bother with free movement?
Switzerland decided long ago not to join the EU, but it does want access to Europe's free-trade area, and it wants to co-operate with Brussels in areas like transport, the environment, and research and education.
The price for this is to sign up to the EU's major policy "pillars" including free movement, and Schengen open borders.
The EU has consistently told the Swiss there will be no cherry-picking: leaving free movement would mean leaving those lucrative trade arrangements too.
Why now?
The proposal comes from the right-wing Swiss People's Party (SVP), and is a successor to a referendum held in 2014 (also from the People's Party) to introduce quotas on immigrants from the EU.
That passed by a whisker (50.33% said yes, 49.67% said no), obliging the Swiss government to find a deal Brussels would accept. In the end a compromise was agreed: Swiss employers had to prioritise workers permanently resident in Switzerland, in job sectors where unemployment is already high.
The SVP dismissed the deal as so weak as to be virtually meaningless, and are now back with a second demand to get out of free movement altogether.
So what are the pros and cons?
Thomas Aeschi of the SVP believes abandoning free movement will bring all sorts of advantages, from "being able to select the highest qualified immigrants" to "less land speculation, lower house prices, and lower rents".
Source___BBC