Arotile
now browsing by tag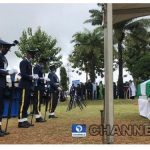 The burial of Nigeria's first female helicopter combat pilot, Tolulope Arotile, has taken place at the National Military Cemetery in Abuja.
Arotile, who died in a tragic car accident on July 14 in Kaduna, is being buried in strict compliance with COVID-19 guidelines, Air Force spokesman, Air Commodore Ibikunle Daramola, said.
Akintunde Arotile, father of the desist described her daughter as a gift from God.
According to him, his daughter was blessed with a high intelligent quotient and that informed her decision to become a pilot.
Source__Channels TV