Autistic Palestinian killed by Israeli police buried in the middle of revenge call
now browsing by tag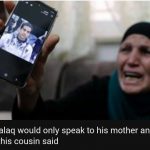 Hundreds of people have were present in the funeral of an autistic Palestinian man who was gunfire and killed by Israeli police.
Iyad Halaq, 32, was shot to dead on Saturday in occupied East Jerusalem while he walked to his special needs school.
Israel's police force said officers have a suspicion that Halaq was having a weapon and that they opened fire when he refused to obey orders to stop. He was later found to have been with no weapons at all.
Israeli Defence Minister Benny Gantz bring forward his regret over the shooting.
"We are sorry about the incident in which Iyad Halaq was shot, and we of course share in the grief of his family. I am sure this issue will be quickly investigated and conclusions will be drawn," he told a cabinet meeting on Sunday.
Mr Gantz added that Israeli security forces would "make every effort to use necessary force with the intention of reducing casualties as much as possible".
Anxieties have increased in recent weeks after Israeli Prime Minister Benjamin Netanyahu said he would press ahead with a plan to take over parts of the occupied West Bank.
The Palestinian Authority has answered by saying it is no longer bound by concurrence with Israel and the United States – which backs Israel keeping part of the West Bank – including those closest to security.
Source___BBC News