Brazil is the second country to hit one million cases of Corona Virus.
now browsing by tag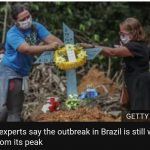 Brazil has become the second country in the world to record not less than one million cases of Covid-19, as the disease continues to escalate.
The health ministry also posted a record toll of new cases in the past 24 hours – more than 54,000.
Moreover, there were more than 1,200 deaths for the fourth consecutive day, taking the total to nearly 49,000.
A lack of testing suggests the true figures are higher and experts say the outbreak is weeks away from its peak.
The new figure was revealed hours after the World Health Organization (WHO) warned that the coronavirus pandemic was entering a "new and dangerous" phase, with its director general Tedros Adhanom Ghebreyesus warning that cases were rising at the same time as people are growing weary of lockdowns and governments are seeking to resume their economies.
Only the US has seen more infections than Brazil, where far-right President Jair Bolsonaro has been heavily criticised for his response to the crisis. He has repeatedly clashed with state governors and mayors who have adopted strict restrictions to curb the spread of the virus, shutting down major cities.
Source___BBC