Corona Virus Cases in Nigeria
now browsing by tag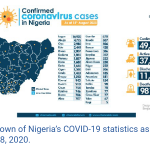 Source__Channels TV
August 18th 2020.
Nigeria yesterday confirmed 410 new cases of the novel coronavirus as the country's toll of infection confirmed neared 50,000.
The Nigeria Centre for Disease Control confirmed the news in a late-night tweet according to Channels TV.
The country's virus epicentre, Lagos, reported 210 new cases, while the FCT posted 45 new infections.
Other states with new cases include: Ondo-30, Plateau-21, Edo-19, Ogun-16, Oyo-13, Nasarawa-12, Bauchi-11, Enugu-10, Kwara-7, Kaduna-6, Anambra-4, Ebonyi-3, Abia-2, Rivers-1.
Four new deaths were recorded on Tuesday as the total toll from the virus reached 981.
Nonetheless, the toll of recovered patients rose to 37,051.
By Amie T. Camara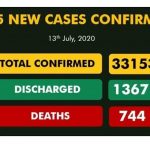 The COVID-19 cases in Nigeria surpassed the 33,000 mark following the confirmation of 595 new infections in the country.
The Nigeria Centre for Disease Control (NCDC) disclosed this on Monday night.
As per the agency, the new infections were confirmed in 19 states and the Federal Capital Territory, Abuja.
Lagos maintained the lead position with a total of 156 new infections, followed by Oyo with 141 and the FCT with 99 new cases.
Other states with registered cases include Edo – 47, Kaduna – 27, Ondo – 22, Rivers – 20, Osun – 17, Imo – 13, and Plateau – 10.
While Nasarawa and Anambra each have 8 new infections, other states like Kano, Benue and Borno each reported 5 cases.
On a positive note, the country has been able to discharge 13,671 people who recovered from the virus.
Unfortunately, a total of 744 persons have succumbed to COVID-19 after being confirmed as fatalities from the infection.
Source___Channels TV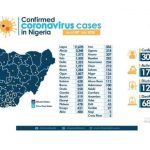 Nigeria on Wednesday confirmed 460 new cases of the novel coronavirus, pushing the country's toll of infections caseload past the 30,000-mark.
The Nigeria Centre for Disease Control revealed this in a tweet via its official handle.
According to the health agency, the number of total infections in the country now stands at 30,249; while 684 persons have died as a result of the virus, 12,373 have been successfully treated and discharged.
Lagos confirmed the highest number of cases among the states with 150 while Rivers recorded 49.
Source___Channels TV