DACA
now browsing by tag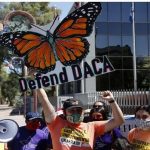 The US Supreme Court allot US President Donald Trump a major setback on his hardline immigration policies, ruling against his bid to end a programme that protects from deportation 650,000 immigrants, dubbed "Dreamers", who entered the United States as children without documentation.
The juiry on Thursday upheld lower court rulings that found Trump's 2017 move to rescind the Deferred Action for Childhood Arrivals (DACA) programme, created in 2012 by his Democratic predecessor Barack Obama, was unlawful.
"The Supreme Court is on the right side of justice and history and it's been a really long, torturous couple of months," said Joella Roberts, who was four-years old when she came to the US with her mom and brother in 2001 from Trinidad and Tobago.
Sumbul Siddiqui, 27, came to the US with her Pakistani parents and is a second-year medical student at Loyola University Chicago Stritch School of Medicine.
Nonetheless, the court concluded the "total rescission" of DACA "was arbitrary and capricious".
Meanwhile, Dreamer immigrants retain their protection from deportation and their authorisation to work in the US.
Source___Aljazeera