Jeddah
now browsing by tag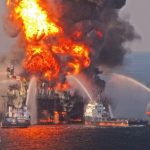 An Iranian oil tanker in the Red Sea was hit by two suspected rockets on Friday off the coast of Saudi Arabia, raising fears of further escalation in the already-volatile Gulf region.  The National Iranian Tanker Company (NITC) said in a statement the hull of the ship sustained two separate explosions about 100km (60 miles) off the Saudi port city of Jeddah.
It said the blasts – one at 5am local time (02:00 GMT) and the other at 5:30am (02:30 GMT) – were "probably caused by missile strikes". Oil prices spiked 2 percent on the news. "All the ship's crew are safe and the ship is stable too," said NITC, the tanker's owner, adding those on board were trying to repair the damage. The state-owned company said contrary to reports, "there is no fire aboard the ship and the ship is completely stable".
Leaking oil had been stopped but it restarted once the vessel began moving again.
"Those behind the attack are responsible for the consequences of this dangerous adventure, including the dangerous environmental pollution caused," Foreign Ministry spokesman Abbas Mousavi told state TV.
There was no immediate acknowledgement from Saudi Arabia about the blasts. Russia's foreign ministry said it was too early to assign blame for the explosions.
Images of the oil tanker, identified as the Sabiti, circulated on Twitter, but Al Jazeera was not able to verify their authenticity.
The vessel last turned on its tracking devices in August near the Iranian port city of Bandar Abbas. Iranian tankers routinely turn off their trackers as US sanctions target the sale of Iran's crude oil.
Lieutenant Pete Pagano, a spokesman for the US Navy's 5th Fleet in the Middle East, said authorities were "aware of reports of this incident" but he declined to comment further.
Al Jazeera's Zein Basravi, reporting from Tehran, said officials at the national oil company said the fire was put out.
According to the website Tankertrackers, the vessel was the largest-sized tanker, was fully loaded with one million barrels of oil, and "it does the Syria route", said Basravi.
"This is the third time in the past six months that an Iranian tanker has been incapacitated in these waters," he noted.