Joe Biden hits a turning point that Hillary Clinton never did: 50%
now browsing by tag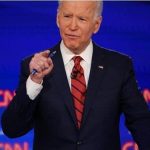 Regularly when we look at polling we talk about margins. For example, former Vice President Joe Biden leads President Donald Trump by 7 point margin in an NBC News/Wall Street Journal poll out on Sunday. What that can miss, however, is that Biden's close to 50% (49%), while Trump isn't anywhere close (42%) in the poll.
In reality, if you look at the average of live interview polls released since last Sunday, Biden manages to eclipse 50% (51%). That is, he has a majority for now. This is a key milestone that shouldn't be undersold.
In the past US history, in comparison to now, Biden might win the upcoming election if Trump don't look up.
His campaign is coming at an interesting speed and his supporters do not seem to look lazy at all.
Credit___CNN