Kamala Harris
now browsing by tag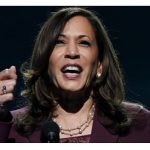 By Amie T. Camara
Afrinity Production unveil to you the history made by Kamala Harris on Wednesday when she accepted the Democratic nomination for vice president, while joining Barack Obama and Hillary Clinton to condemn President Donald Trump's profound "failure" as a leader.
In her vice-presidential acceptance speech on the third night of the Democratic National Convention, Ms. Harris said "there is no vaccine for racism" as she offered her vision for a more inclusive country.
Ms. Harris said she was committed to the values that her mother had taught her and to a "vision of our nation as a beloved community — where all are welcome, no matter what we look like, no matter where we come from or who we love."
She said she imagined the United States as "a country where we may not agree on every detail, but we are united by the fundamental belief that every human being is of infinite worth" and also as a place "where we look out for one another" and "we rise and fall as one."
Harris, the first black woman on a major party's White House ticket, accused Trump of turning "our tragedies into political weapons." And she urged Americans to vote for Joe Biden, "a president who will bring all of us together."
"Donald Trump's failure of leadership has cost lives and livelihoods," the former California prosecutor charged in her acceptance speech.
"We're at an inflection point."
Biden, who faces Trump on November 3, is due to give his own acceptance speech today, closing a Democratic convention held wholly online and on television due to coronavirus safety precautions.
SOURCES
Channels TV And
The New York Times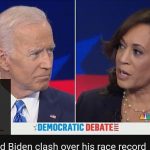 The California Democrat was born in Oakland, California, to two immigrant parents: an Indian-born mother and Jamaican-born father.
After her parents' divorce, Ms Harris was raised primarily by her Hindu single mother, Shyamala Gopalan Harris, a cancer researcher and civil rights activist.
She grew up engaged with her Indian heritage, joining her mother on visits to India, but Ms Harris has said that her mother adopted Oakland's black culture, immersing her two daughters – Kamala and her younger sister Maya – within it.
"My mother understood very well that she was raising two black daughters," she wrote in her autobiography The Truths We Hold. "She knew that her adopted homeland would see Maya and me as black girls and she was determined to make sure we would grow into confident, proud black women."
She attended college in the US, spending four years at Howard University, one of the nation's preeminent historically black colleges and universities, which she has described as among the most formative experiences of her life.
Ms Harris says she's always been comfortable with her identity and simply describes herself as "an American".
She told the Washington Post in 2019, that politicians should not have to fit into compartments because of their colour or background. "My point was: I am who I am. I'm good with it. You might need to figure it out, but I'm fine with it," she said.
After four years at Howard, Ms Harris went on to earn her law degree at the University of California, Hastings, and began her career in the Alameda County District Attorney's Office.
She became the district attorney – the top prosecutor – for San Francisco in 2003, before being elected the first woman and the first black person to serve as California's attorney general, the top lawyer and law enforcement official in America's most populous state.
In her nearly two terms in office as attorney general, Ms Harris gained a reputation as one of the Democratic party's rising stars, using this momentum to propel her election as California's junior US senator in 2017.
Credit_BBC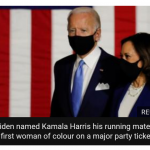 According to BBC, the campaign team for Democratic White House candidate Joe Biden has issued a scathing response after US President Donald Trump amplified a conspiracy theory about his running mate.
Mr Trump said he had "heard" that Kamala Harris – a US-born citizen whose parents were immigrants – "doesn't qualify" to serve as US vice-president.
The fringe theory put forward by Trump has been dismissed by constitutional experts.
The Biden campaign called the comments "abhorrent" and "pathetic".
They noted that Mr Trump spent years promoting a false "birther" theory that ex-President Barack Obama was not born in the US.
Ms Harris, a senator from California, on Tuesday became the first black woman and the first Asian-American to be named as a running mate on a main-party US presidential ticket.
"Donald Trump was the national leader of the grotesque, racist birther movement with respect to President Obama and has sought to fuel racism and tear our nation apart on every single day of his presidency," a Biden campaign spokesman said in an email.
"So it's unsurprising, but no less abhorrent, that as Trump makes a fool of himself straining to distract the American people from the horrific toll of his failed coronavirus response that his campaign and their allies would resort to wretched, demonstrably false lies in their pathetic desperation."
Ms Harris was born to a Jamaican father and Indian mother in Oakland, California, on 20 October 1964. As such, she is eligible to serve as president or vice-president.
Constitutional scholars have dismissed the fringe legal theory that Mr Trump was referring to.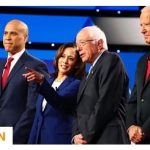 Kamala Harris makes history as US vice presidential candidate, but barriers remain for women in power around the world.
This week, US Democratic party presidential candidate Joe Biden announced that Senator Kamala Harris would be his running mate and future vice president if he wins the vote this November. This is frontier stuff – it is the first time a woman of colour has been given such a position on a major party ticket in the US. To some, this highlights how patriarchal the system remains as she had to have it bestowed upon her by a man – Biden. It remains to be seen if this is a real marker for progress, or a tokenistic effort on the part of the Democrats.
The fact is that the obstacles preventing most women from reaching positions of power remain firmly in place.
"It is quite astonishing to see that more than 100 years after women were first given the right to vote (in Iceland), the first-ever elected woman president is still alive," says Koch-Mehrin.
She is speaking of Vigdis Finnbogadottir who won the 1980 Icelandic presidential election and became the longest-serving elected female head of state in history, with nearly 16 years in office.
"It is still a new phenomenon in political systems which have been set up and tailored to the needs of men for hundreds of years," says Koch-Mehrin. "Women are still the 'new' group trying to get in."
The climb to the top is even more fraught for women of colour, even in political systems which have made traction in the effort to ease the passage of women generally.
Credit___Aljazeera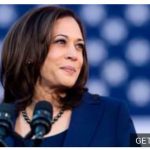 BBC said, Democratic presidential candidate Joe Biden has named Kamala Harris as his running mate – the first black woman and South Asian American in the role.
Mr Biden will face President Donald Trump in the election on 3 November 2020.
At a White House news conference on Tuesday, Mr Trump, a Republican, said he was so excited with Mr Biden's choice, disclosing she did "very, very poorly" in her effort to become the Democratic nominee.
Ms Harris will debate Mr Trump's running mate, Vice-President Mike Pence, on 7 October in Salt Lake City, Utah in the US.
The role of a vice presidential running mate isn't clearly defined as of now.
A running mate is often a safe bet and minimises the chance of embarrassment.
But with Mr Biden turning 78 in November, he would be by far the oldest person to be sworn in as president, making the potential necessity for Ms Harris to stand in as president more likely than usual.
Source___BBC