Malawi's rocky and daring year to Repeating their 2019 election
now browsing by tag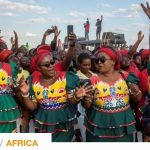 Malawians set to return to the polls after long uncertainty exceeding cancellation of 2019 vote over irregularities.
Security was tight on Malawi's "Judgement Day".
Around the country, shops and offices were close as citizens anxiously awaited the judges' ruling on whether to annul last year's disputed elections.
Tensions had been running high since the Malawi Electoral Commission (MEC) declared incumbent President Peter Mutharika the narrow winner of a May 2019 vote despite cries of foul play. Calling the results "daylight robbery", two opposition parties petitioned the constitutional court to review the election as the dispute spilled on to the streets.
It would take more than 10 hours to read it in full, but the judges early on detailed a laundry list of gross irregularities, including the widespread use of the infamous Tipp-Ex correction fluid on ballot papers to alter figures. Glued to their radios, Malawians heard that the MEC's actions "demonstrated incompetence" and "greatly undermined the integrity of the elections".
Mutharika slammed the verdict as a "serious miscarriage of justice" and, along with the MEC, filed an appeal. But on May 8, the Supreme Court upheld the earlier ruling, setting the stage for Malawians to return to the polls again on Tuesday to pick their next president.
Source___Aljazeera