Mali opposition insists President Keita must resign
now browsing by tag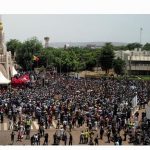 Mali's protest movement has kneeled on with a demand for embattled President Ibrahim Boubacar Keita to quit, as international peace keepers tried to defuse the crisis in the conflict-riven country.
At a news conference in the capital Bamako on Friday, the June 5 Movement also insisted that the West African state's parliament be dissolved, and called for a "republican transition" from the current government.
The movement came during soaring political tensions in Mali, which a delegation from the 15-nation West African regional bloc ECOWAS is trying to calm.
The June 5 Movement has outrage a showdown with the government with relentless demands that Keita resign for his perceived failures in tackling the dire economy and Mali's eight-year conflict with armed fighters.
Three days of violence between protesters and security forces ensued, leaving 11 dead and 158 injured, according to an official tally, in the bloodiest bout of political unrest in years.
The June 5 Movement – a disparate alliance of political, social and civil-society leaders – has stuck to its core demand and rejected conciliatory gestures from the president.
Source___Aljazeera