Mali Protest
now browsing by tag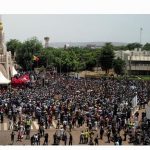 Mali's protest movement has kneeled on with a demand for embattled President Ibrahim Boubacar Keita to quit, as international peace keepers tried to defuse the crisis in the conflict-riven country.
At a news conference in the capital Bamako on Friday, the June 5 Movement also insisted that the West African state's parliament be dissolved, and called for a "republican transition" from the current government.
The movement came during soaring political tensions in Mali, which a delegation from the 15-nation West African regional bloc ECOWAS is trying to calm.
The June 5 Movement has outrage a showdown with the government with relentless demands that Keita resign for his perceived failures in tackling the dire economy and Mali's eight-year conflict with armed fighters.
Three days of violence between protesters and security forces ensued, leaving 11 dead and 158 injured, according to an official tally, in the bloodiest bout of political unrest in years.
The June 5 Movement – a disparate alliance of political, social and civil-society leaders – has stuck to its core demand and rejected conciliatory gestures from the president.
Source___Aljazeera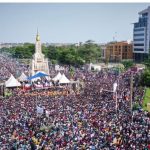 Mali's President Ibrahim Boubacar Keita has said he has launched an investigation into violence committed during a mass anti-government protest on Friday, which saw at least one person killed and 20 others wounded.
Thousands rallied in the capital city Bamako to demand Keita's resignation over long-running security issues, economic woes and perceived government corruption in the fragile West African state.
The rally was organised by an opposition coalition and is the third such demonstration in two months – significantly escalating pressure on the embattled leader.
Led by influential scholar Mahmoud Dicko, the so-called June 5 movement is channelling deep-seated frustrations in the country.
"We have recorded one death," said Yamadou Diallo, a doctor in Bamako's Gabriel Toure Hospital, adding that 20 people had been wounded.
An official from the prime minister's office also confirmed the death. The circumstances under which people were wounded and one person was killed were not immediately clear.
Source___Aljazeera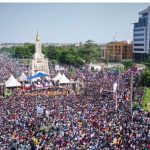 Dozens of people rallied in Mali's capital Bamako on yesterday to demand the stepping down of President Ibrahim Boubacar Keita, heeding the call of the country's newly resurgent opposition.
The 75-year-old president is under extreme force over failures to contain a jihadist insurgency that emerged in northern Mali in 2012 and escalate to the fragile centre of the West African state.
Thousands of soldiers and civilians have died, and hundreds of thousands have fled their homes.
On Friday, an imam led tens of thousands of protesters in a prayer in a central city square.
Protesters then sang the national anthem and blew vuvuzela horns, with many toting placards bearing anti-government slogans.
The demonstration follows a similar rally on June 5 organised by a newly-formed coalition of opposition groups.
That coalition has since adopted the name, "Movement of June 5 — Rally of Patriotic Forces."
Religious leaders coming together and civil society figures, the coalition is channelling deep-seated frustration about the slow pace of progress and continuing bloodshed.
Source___Channels TV