Police question APRC Leader
now browsing by tag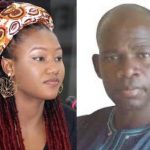 Police have cross-questioned Ousman Rambo Jatta, the deputy leader of opposition Alliance for Patriotic Reorientation and Construction over comments made against Toufa – the TRRC witness who assigned guilt to former President Yahya Jammeh of rape.
The Point Newspaper has been notified that Rambo Jatta was asked questions by police on Friday at the Police Headquarters in Banjul over comments he made last year; during APRC political rally in Abuko against Toufa.
*The APRC No. 2 was quoted as saying that they will deal with Toufa Jallow after the release of the recommendations of the TRRC.*
The deputy spokesperson of the APRC, Dodou Jah has disclosed this development to Point Newspaper reporter.
He said the police only questioned Rambo to elaborate on what he meant by dealing with Toufa after the TRRC recommendations.
As disclosed by Rambo,he told the police that they were going to take a legal action against Toufa who put accusations against former President Yahya Jammeh of rape.
"Many in fact believe that it has to do with Rambo's recent comments about people that are insulting former President Jammeh. Again, we will not sit only for people to be insulting former President Jammeh. He should be respected as a former head of state who has too many followers."
Source___The Point Newspaper