Trump removes campaign manager as Biden continue leading in polls
now browsing by tag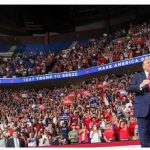 US President Donald Trump has removed his longtime campaign manager amidst his loosing of poll numbers that showed him trailing further behind Democratic candidate Joe Biden with less than four months to go before the November 3 election.
In a Facebook post on Wednesday, Trump said campaign manager Brad Parscale would be replaced by Bill Stepien, who has been the deputy campaign manager. Parscale will shift to a role focused on digital and data strategy, the president said.
In his statement, Trump credited both Parscale and Stepien for their involvement in his 2016 victory in the US presidential election and predicted that he would glide to a second term in office.
"This one should be a lot easier as our poll numbers are rising fast, the economy is getting better, vaccines and therapeutics will soon be on the way, and Americans want safe streets and communities," Trump wrote.
Source___Aljazeera