TTRC
now browsing by tag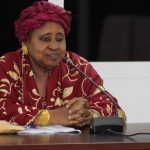 Isatou Njie Saidy former vice president of the Gambia denies taking part in Jammeh's tyranny. appearing before the TRRC on Thursday 3rd of October 2019 which was broadcast live on QTV.
Isatou Njie Saidy is the longest serving government official in the history of the Gambia who was a minister of health then later became the Vice President of the republic The Gambia from 1997 to 2017.
In his opening speech Essa Faal brief and encourage her to speak the truth in other to help the commission in its mission. He also warned that it is criminal offence in the country to lie in the under oath and to also lie to the commission. After the general questions about her background Madam Njie was asked about her role in the former regime's time.
When she was asked about the April 10/11 2000, she denied giving orders to Jatta to shoot at demonstrators. Stating that she only heard the problem and doesn't know what happened.
when she was asked whether she knew that there was a demonstration or problem in Brikama, she said she only heard about it after the demonstration. She strongly stood on her ground that she doesn't know anything about the demonstration.
During her testimony, Njie Saidy denied playing any front-row role in Jammeh's reign of terror, saying throughout she would only hear of crimes only after they have been committed. This made TRRC counsel Essal Faal who was clearly running out of patience at some point asking the former vice president which country she was living in but Njie Saidy stood her ground telling Faal she was living in The Gambia.
All that Njie said in her testimonies was "I don't know" or " I don't Remember" "It could be"
When she was asked about the decisions taken at the meeting she told the commission she doesn't remember. when evidence were brought to her that she gave orders to deploy an army, Njie said she didn't give orders.
"They brief me on the issued but the decisions made its been a long time i cant remember. we dont keep minutes because it was an emergency." Babucarr Jatta could deploy an army without my knowledge", she said.