The Gambia Police Intervention Unit Accused of Manhandling
The Gambia Police Intervention Unit Accused of Manhandling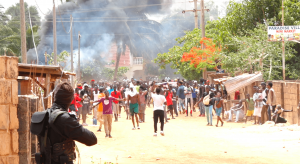 Police Intervention Unit (PIU) are accused of manhandling accused some accused persons as the case involving Killa Ace Gambian artist and 36 others.
The accused persons face eight counts including unlawful assembly, prohibition of conduct conducive to breaches of the peace, arson and rioters demolishing building.
Dozens of PIU officers were present at Tuesday's court hearing at the Kanifing Magistrates' Court, with some PIU officers spotted throwing some accused persons to a waiting police van within the court's premises.
However, police say the accused resisted to board the waiting van.
Some angry youth were shouting and saying: "You guys should learn a lesson from the past regime. We are all seeing what's currently going on at the TRRC. Before arresting people why not you tell us the people that killed Ousman Darboe," they queried.
The late Ousman Darboe wife's was also seen within the premises of the court.
Alieu Bah and some activists also took the main highway marching towards Banjul and demanding the unconditional release of all the 37 arrested youths.
"We will not allow anybody to take us to those days of Yahya Jammeh even if it means giving our lives," Dabakh Malick, an activist said during an interview.
He said: "So many people have lost their lives and others went into exiles during the former regime and others lost their lives just to bring in Barrow's government," he added, saying that "if they think they are in power and that they have The ECOMIG and soldiers, we have our rights and we're going to stand here in the Gambia and fight for those rights. Nobody is taking us back to the days of dictatorship."
"I am not standing here to defend anybody who did arson, but even whereas the person is going through court process; even if he is guilty; he is a human being, he needs to be treated with utmost respect. However, you can't be slapping and kicking people just because they're inmates."
According to him majority of the young people that were present on the ground were agitated because they don't have jobs. "They're agitated because they're frustrated and they lost hopes in this country. Don't allow the authority to use you and you are brutalising people."
"Today in our presence, we saw you beating our own people. They're accused persons and it's wrong for you to beat them," Kexx Sanneh said,
"We are ready to fight against dictatorship in the country and we're not going to entertain it anymore. We are tired. We stood here when you people are supporting Yahya Jammeh and fought against dictatorship. In fact, most of you were enablers during the former regime."
"We must all resist. Gambians youth must go out and take this country from our failed politicians," Alieu Bah stated.