SMA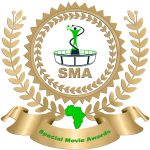 Special Movie Awards (SMA)
The Special Movie Awards (SMA) is an unforgettable night to celebrate movie makers in and outside Africa continent. It is a special night were we award film, cast and crew generally celebrating excellence in films and film making.
The 4th edition of the Special Movie Awards SMA 2020 Virtual edition will be held on the 27th of December 2020.  This is an initiative geared towards the common good of filmmaking and filmmakers in the West African sub Anglophone region.
The Special Movie Awards first, second and third editions were a great success in The Gambia, the smiling coast of Africa as the event was graced by Ministers, Heads of Institutions, members of the Diplomatic Corp,  film makers, actors and actresses, traditional rulers and religious leaders. The second editions of SMA generated fantastic exposure for movie makers in The Gambia and beyond. Out of 48 nominees, 16 outstanding winners went home with beautiful SMA awards from the 16 different categories. His Excellency Adama Barrow, The president of the republic of The Gambia was awarded "Pillar of SMA 2017" and Desmond B. Finney a veteran Sierra Leonean actor received a life time achievement award. 6 Awards were also won for the international category out of 18 nominees for Sierra Leone.
The Special Movie Awards 3rd edition was a great success on Saturday 1st December 2018 at Djembe hotel Senegambia. The event Special Guest of honour H.E Fatima Maada Bio, First Lady of the Republic of Sierra Leone was ably represented by the Sierra Leonean High Commissioner to The Gambia. The Gambia Government officials, The Nigerian High Commissioner, The Oba of Yoruba community in The Gambia, Film Makers, Actors and Actresses, Heads of institution, Private/ cooperate bodies and other sophisticated guests. The memorable night was filled glitz, glamour and paparazzi as it generated a fantastic exposure for movie makers in the Gambia and beyond.
Out of 45 nominees, 16 lucky winners went home with beautiful SMA 2018 awards for the 16 different categories. 9 SMA Honorary Awards and certificates of appreciation was also given on the night.
We want to thank you for your support in previous editions, due to the global pandemic the management of SMA have decided to expand it to west African Anglophone countries and organize virtual edition for the SMA 4.0 live from Freetown.