Car crash kills 6, injures 12 in Ghana
Car crash kills 6, injures 12 in Ghana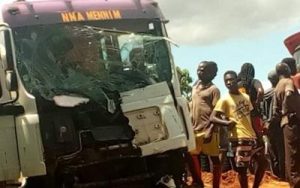 A car crash on Monday left six people dead and 12 injured on a highway, about 94 km from Ghana's capital Accra.
An eye witness said that an overloaded bus traveling from Accra to Kumasi was trying to overtake the other vehicles, and ended up colliding with a truck loaded with cement.
The injured were sent to three hospitals for treatment in a timely manner.
The cause of the incident is still under investigation.