Almameh Is So Inspiring. I'm Hugging The Next Cop I See!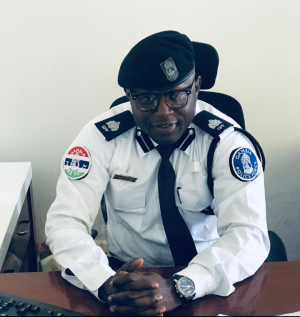 Afrinity Production draw attention to a 34 year old Almameh S. Manga raised in Kanfenda and currently a Police Officer. He is the present Officer Commanding Prosecutions and Legal Affairs at the Police headquarters.
We know the duty of the police is "to protect and to serve their People." And there is a lot of serving being done in communities across Gambia. Cops often go out of their way to show their love for their community by helping out their citizens.
Almameh is no stranger to good deeds. In fact, he was making a difference in his community right up until he joined the police in September 2008. He decided to join police because he love being a cop, its passion and happiness keeps him alive to do what he does.
"I have always wanted to be a cop and this was a well thought decision because I grew up in an environment that served as host to both Police and Military posts. Kanfenda has always had both police and military checking points. We sit around and brew attaya for them and that's how I got inspired to join the police even though I had wanted to become a Soldier initially. But hey I have no regrets joining the Police, I love the job", he said.
Almameh's journey is been rough but he would rather focus on the positives because he is full of determination and commitment, that's the secret of his success and the journey that brought him this far. He has a dream and that's to leave a legacy but he will prefer to say leaving an indelible Mark to serve as a footpath for generations to follow. He aspired to inspire the younger generation to serve their country with dignity and respect and his own Inspirational drive comes from his Mum and Dad.
He was Awarded the prestigious Chevening Scholarship by British Foreign & Commonwealth Office to pursue a one year Masters degree in the United Kingdom. Also awarded Certificate of Appreciation on the 10th of May 2013 by the US – Peace Corps in The Gambia and he was a moderator/anchor of the weekly 'Law Hour Show' on City Limits Radio in collaboration with the UTG Law Students Association from 2013 to 2014.
Yes Almameh is a cop as alluded earlier but he also offer part time lectures at the University of The Gambia as an Adjunct lecturer. He also had previously lectured at the Management Development Institute for almost a year and more.
When asked where he sees himself in the next 5 years, he honestly replied, "I see myself a better person in the next five years. I want to become a champion of change and continue to work hard for my motherland", he concluded.
By Amie T. Camara