Amnesty urges EU to rethink Libya cooperation over refugee abuse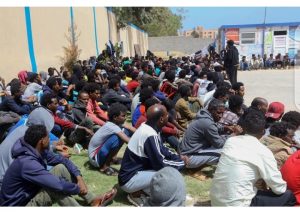 By Amie T. Camara
Afrinity Production confidently disclose the calling of prominent rights group on the European Union to reconsider its cooperation with Libya over "horrific abuses" being committed against refugees and migrants in the North African country.
In a new report published on thursday, Amnesty International criticised the EU and its member states for supporting the Tripoli-based Government of National Accord (GNA) and its coastguard in its efforts to intercept refugees and migrants at sea and take them back to Libya.
Oil-rich Libya has become a key route for refugees and migrants wanting to reach Europe in the chaotic years since the 2011 overthrow and killing of longtime ruler Muammar Gaddafi in a NATO-backed uprising.
The International Organization for Migration and many others have long warned that it is not safe for migrants to be returned to the conflict-ridden country.
"Instead of being protected, they are met with a catalogue of appalling human rights abuses," said Diana Eltahawy, deputy regional director for the Middle East and North Africa at Amnesty International.
"Even in 2020, the EU and its member states continue to implement policies trapping tens of thousands of men, women and children in a vicious cycle of abuse," she added.
"The EU and its member states must completely reconsider their cooperation with Libyan authorities, making any further support conditional on immediate action to stop horrific abuses against refugees and migrants."
In its report, Amnesty also provided detailed accounts of cases involving the unlawful killings of migrants and refugees in Libya, as well as enforced disappearances, torture, rape, arbitrary detention and "forced labour and exploitation at the hands of state and non-state actors in a climate of near-total impunity".
Source___BBC