Chile protests: Five dead after looters torch garment factory
Chile protests: Five dead after looters torch garment factory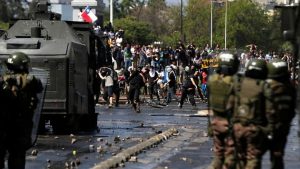 Five people died after looters torched a garment factory near Chile's capital Santiago, bringing the death toll in violent protests to at least seven.
The military and police used tear gas and water cannon against protesters and a curfew was imposed in major cities.
A state of emergency already in place in Santiago is to be extended to cities in the country's north and south.
The unrest, sparked by a now suspended metro fare hike, has widened to reflect anger over living costs and inequality.
There is set to be major disruption on Monday with many banks, schools and shops expected to remain closed.
What is happening on the ground?
Firefighters say they found five bodies inside the garment factory burned by rioters in a suburb of Santiago. Earlier reports suggested three others had died in a supermarket fire in Santiago on Saturday.
Interior Minister Andrés Chadwick said at least seven people had died in incidents related to the protests, without giving details.
In Santiago, almost all public transport was suspended and some flights at the international airport were cancelled or rescheduled because of insufficient crew.
At least one line of the city's metro was expected to reopen on Monday after the entire system was closed on Friday because of the damage caused during the unrest, the worst to hit one of Latin America's most stable countries in decades.