Dramatic deposition rocks Trump's impeachment defense
Dramatic deposition rocks Trump's impeachment defense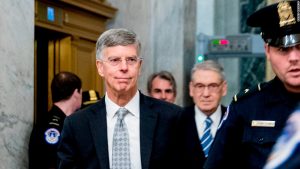 Democrats may have just unearthed their smoking gun and the quid pro quo in one fell swoop after the most consequential and dramatic turn yet in their impeachment investigation into President Donald Trump.
On yet another mind-bending day in a presidency that is carving one of the most turbulent passages in US political history, Trump's plight and that of his GOP defenders markedly darkened.
The top US diplomat in
Ukraine notified House investigators
that he was told that the release of military aid to Kiev would depend on a pledge to probe the 2016 election and 2020 Democratic presidential candidate Joe Biden, who, according to
a new CNN poll
conducted by SSRS, leads Trump by 10 points in a hypothetical 2020 general election matchup.
The deposition by
Bill Taylor
on Tuesday appears to directly refute the President's claim that there was no quid pro quo in his dealings with the former Soviet state.
Taylor's testimony bolsters a
whistleblower report
and a
transcript
of Trump's notorious July 25 call with Ukraine's President that shows he asked for a "favor" in return for badly needed aid as Ukraine fights Russia.
It makes it far more difficult for the GOP to defend the President on the facts of the case, as they have emerged from days of testimony inside the closed impeachment inquiry.
And the new testimony may increasingly force the President's supporters into a fallback argument: that what he did was inappropriate but falls short of the standard of high crimes and misdemeanors needed for impeachment.
Democrats argued that Taylor's testimony was the most shocking revelation yet from their monthlong impeachment investigation — which is likely to get more complicated as a result.
"This testimony is a sea change. I think it could accelerate matters," said Democratic Rep. Stephen Lynch of Massachusetts.
Democratic Rep. Gregory Meeks of New York said there was clear evidence of a quid pro quo manifested in Trump's pressure on Ukraine.
"It's out there, so read the text of the statement," he told CNN's Anderson Cooper.
Carrie Cordero, a CNN legal analyst and former senior Justice Department and intelligence community official, described Taylor's testimony as "an incredibly big deal."
"Bill Taylor clearly articulated in the way that we have most clearly understood at this point the exchange that was on the table," Cordero said on "Erin Burnett OutFront."
White House slams 'radical bureaucrats'
Trump has denied any wrongdoing and says the Democrats are attempting to impeach him because they can't win the 2020 election. His legal team accuses Democrats of running an illegitimate process that is unfair to the President.
The White House did not challenge Taylor's testimony directly, instead choosing to attack the constitutionally sound Democratic process and to conjure up a new conspiracy theory.
"President Trump has done nothing wrong — this is a coordinated smear campaign from far-left lawmakers and radical unelected bureaucrats waging war on the Constitution," said White House press secretary Stephanie Grisham in a statement.
More on the impeachment inquiry from CN
Taylor, one of the "radical, unelected bureaucrats" in the President's sights, is a highly regarded career official who was directly appointed by Secretary of State Mike Pompeo and is a veteran of the Republican George W. Bush administration.
As Trump fumed in the White House, Republicans wrestled with how to cope with the latest avalanche of disclosures.
His most loyal defenders insisted that Taylor's testimony changed nothing. "I've been in there 10 hours, I can assure you there's no quid pro quo," said Rep. Mark Meadows of North Carolina.
Sen.
Lindsey Graham
of South Carolina defended Trump's use of the term "lynching."
"This is a sham. This is a joke," he said.
"So yeah this is a lynching, in every sense. This is un-American," he added.
But other, more moderate Republicans publicly expressed disquiet over the new testimony, which provided new texture on Trump's back-channel Ukraine policy shop involving his personal lawyer Rudy Giuliani and several personal appointees.
"The question that we're going to be answering here is: Does this reach a level of impeachment or is it a disagreement on policy?" said Republican Rep. Will Hurd of Texas.
Hurd was asked on CNN's "The Situation Room" whether withholding nearly $400 million in aid to coerce Ukraine into investigating Trump's political opponents was impeachable conduct.
"I think that would reach a level that we should be considering," Hurd said.
Republican Rep. Francis Rooney of Florida said he was concerned by the Taylor deposition. "Does it rise to the level of an impeachable offense? I don't know."