Libya conflict: 'Stressed' Ghassan Salame resigns as UN envoy
Libya conflict: 'Stressed' Ghassan Salame resigns as UN envoy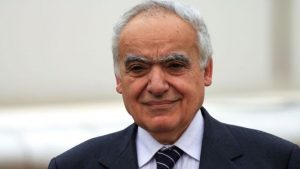 The conflict in the oil-rich nation has been complicated by the involvement of foreign states.
Turkey passed a controversial law in January to deploy troops to help GNA forces, in Tripoli. Qatar also backs the GNA, which is led by Prime Minister Fayez al-Sarraj,
The capital has been under an 11-month-long siege by forces loyal to renegade Gen Haftar. According to the UN, the campaign has killed hundreds of people and displaced thousands more from their homes.
The LNA, which controls much of eastern Libya, is backed by Egypt, Russia, Saudi Arabia and the United Arab Emirates (UAE).
UN chief António Guterres, in an interview with the BBC last month, termed the conflict a "proxy war", adding that it was "unacceptable".
Last month, EU foreign ministers agreed to a new naval and air mission to prevent further weapons reaching Libya.