Nigeria Records 252 New COVID-19 Cases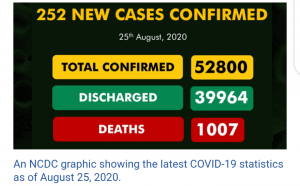 By Amie T. Camara
Afrinity Production unveil to you the newly recorded novel corona virus cases in Nigeria. Having 252 new cases of the novel coronavirus, Nigeria at the moment has 52,800 active cases.
Nigeria's health agency, in a late-night tweet, put the total number of cases in the country at 52,800, with 1,007 dead and more than 39,000 persons discharged.
Plateau topped the list of states with new cases with 50, while Enugu ranked second with 35.
Other states with new cases include Rivers-27, Lagos-26, FCT-18, Kaduna-18, Ekiti-10, Kano-10, Taraba-9, Anambra-8, Edo-8, Oyo-8, Delta-7, Ogun-6, Abia-5, Bayelsa-5, Ebonyi-1, and Osun-1.
According to data from the NCDC, the country has tested 383,130 samples
Global Update
The novel coronavirus has killed at least 813,733 people worldwide since the outbreak emerged in China last December, according to a tally from official sources compiled by AFP at 1100 GMT on Tuesday.
At least 23,689,860 cases have been registered. Of these, at least 15,098,600 are now considered recovered.
The tallies, using data collected by AFP from national authorities and information from the World Health Organization (WHO), probably reflect only a fraction of the actual number of infections.
Source___Channels TV