President Buhari Suspends leader of Nigeria Social Insurance Trust Fund with his 11 Top Officials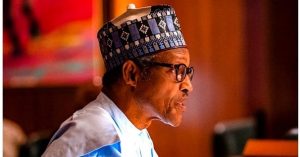 President Muhammadu Buhari has make known the indefinite suspension of Mr Adebayo Somefun, the Managing Director and Chief Executive of the Nigeria Social Insurance Trust Fund (NSITF).
A statement yesterday from the Head of Press and Public Relations at the Ministry of Labour and Employment, Charles Akpan, discloses that the President also suspended 11 top officials of the agency.
They include Jasper Azuatalam (Executive Director, Finance and Investment), Olukemi Nelson (Executive Director, Operations), and Tijani Sulaiman (Executive Director, Administration).
Others are Olusegun Bashorun (General Manager, Administration/Human Resources/Maintenance), Lawan Tahir (General Manager, Finance), Chris Esedebe (General Manager, Claims and Compensation), Olodotun Adegbite (Deputy General Manager, Investment and Treasury Management), and Emmanuel Sike (Deputy General Manager, Finance and Accounts).
Also affected by the suspension are Olutoyin Arokoyo (Deputy General Manager/Acting Head, Legal), Dorathy Tukura (Deputy General Manager, Administration), and Victoria Ayantuga (Assistant General Manager, Internal Audit).
As per the statement, their suspension from office arose from their poor Financial Regulations and Procurement Act, and other acts of gross misconduct.
Source___Channels TV