See how President Buhari performs lesser Hajj in Saudi Arabia (photos)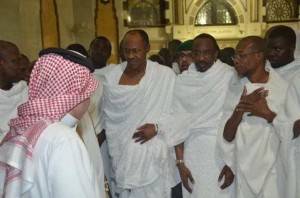 President Muhammadu Buhari, who is currently in Saudi Arabia, visited Mecca in Saudi Arabia for Umrah, lesser Hajj (or the lesser pilgrimage).
Medina is the capital city of Al-Madinah Region of Saudi Arabia.
The two basic rules for how two perform Hajj are as follow:
1. If a Muslim intends to perform Umrah, he should take off his clothes, take a bath and then perfume himself.
2. After taking a bath, the Muslim puts on Ihram dress and prays if the time is for prescribed prayer.
During his previous visit to the country as the military head of state in 1984, Buhari has reportedly visited the holiest site in Islam – Ka'aba.
Also called Ka'aba Muazzama meaning the Grand Ka'aba, it is believed the House of God and duplicates as the most sacred site anywhere in the Earth.
President Buhari's other engagements in Saudi Arabia include meetings with heads of international financial organisations and multilateral associations.
Buhari is set to leave Saudi Arabia on February 27, Saturday, for Doha, the Qatari capital.