Sierra Leone 🇸🇱 set to have it's first auto manufacturing and assembly plant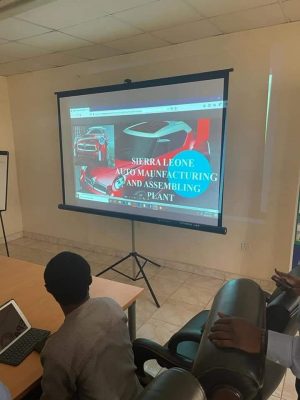 *SIERRA LEONE IS SET TO HAVE ITS FIRST AUTO MANUFACTURING AND ASSEMBLING PLANT*
In an effort to create a sustainable industrialized development, boost the country's economy and to create professional jobs, the *Government of Sierra Leone* through it *Consuls General to Miami, Florida, USA. Hon. George Hamilton* are in engagement with *Institute of Progressive Sustainable Development* which is a US based *Automobile Manufacturing company* to setup an auto manufacturing and assembling plant production in the country. The plant will be established with the aim of helping Sierra Leone to produce it own cars and vehicle spare parts supply chain in order to maximize the high challenge of influx of cars and automobile products in the country and help in achieving His *Excellency The President (Rtd). Brigadier Dr. Julius Maada Bio's* human capital and sustainable development goal.
The Proposed Sierra Leone Manufacturing and Assembling Plant will enable Sierra Leone to compete favorably with leading car assembling plants in the United States and other countries in the world as there is going to be a mechanized system that will be put in place and also a competent team of automobile engineers and technicians that will ensure that every car that is rolled out from the plant meets and even surpasses customers' expectations.
The mission as a car manufacturing plant company is to develop a highly successful car manufacturing plant industry that is known to manufacture durable and affordable automobiles for both the rich and the general populace.
The company's created after its successful implementation will build a positive international image of the country, reduce the high expensive increase on export cars. It wil
also create over 30,000 sustainable jobs,
create up to 8,000 millionaires and new business owners and the highlight is that it will especially help improve the country's domestic revenue by *paying Tax* to the *Government.* It is known that the car and automobile manufacturing industry is a major sector boosting the economy of some countries in the world.
The *Founder/CEO* of the Institute of Progressive Sustainable Development and the proposed Sierra Leone Manufacturing and Assembling Plant, *Dr. Meriland Dillard* and *Team* were in the country as visibility studies is on going. The visit was accompanied by the proactive *Sierra Leone Consuls General to Miami, Florida, USA. Hon. George Hamilton.* the team visited key Government sectors such as *His Excellency The Vice President, Dr. Mohammed Juldeh Jalloh, the Ministry Of Foreign Affairs, the Ministry Of Trade & Industry, the Ministry Of Youths Affairs, the Ministry of Transport & Avaition, and the Head and team of SLIEPA* and they all welcomed the idea and gave fruitful contributions after details of the company's plans was presented.