The Belle of African Nations (BOAN) Team Visits The Nigerian High Commission in The Gambia (Photos)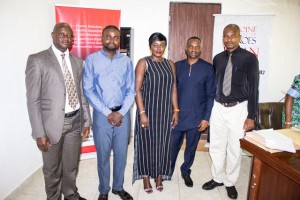 The Founder of Belle of African Nations (BOAN), Olayinka Fatima Edu and her Director of Projects, Mr. Peter Akpobasah were at the Nigerian High Commission, The Gambia today in view of the upcoming BOAN 2015 event in Lagos, Nigeria.
They were accompanied by Mr. Wilfred Adams who is the Regional Director of BOAN in Africa and of course yours sincerely me. She was ably received by the Head of Chancery (HOC) and other top Staff of the High Commission.
The Founder, Olayinka Fatima Edu during her presentation explained the concept behind the project. She said BOAN does not just celebrate the past heroines of Africa; it also recognizes and awards the efforts of present day women, who are making conscious efforts to affect their world, from all walks of life.
The HOC and her staff in response applauds the initiative of BOAN and pledged their maximum support and endorsement.
See more photos below: