The Movie Making : Beyond Greed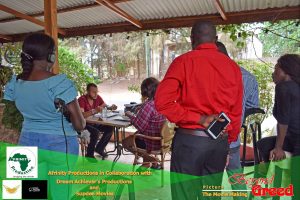 SYNOPSIS OF BEYOND GREED
TAG LINE: Her life is dominated by greed, will she allow love to be the reason of being in a relationship.
SYNOPSIS
Jankeh a young girl barel
y 25years old lives a life of insecurities. She lives with two friends Kadijah and Fatrish, Fatrish is her culprit whilst Kadijah is an exact opposite as she is never in line with her plans. Jamil a young entrepreneur, only son of a rich man Chief Ousman Saine, CEO of Saine's petroleum meets with Jankeh, falls head over heels for her. Jankeh on the other hand, only had plans of being with him for his money. She steals from him and flees. The story began when she meets Jamil who happens to be the son of her once culprit of which she had no idea. Jamil falls for her and propose then decides to introduce her to his father. Chief goes against the wedding as he knew Jankeh was nothing but a goal digger and threatens to disown Jamil if he goes against him to marry her. Jankeh wanted Chief out of her way, she attempts to kill him but he is saved by Dominic a best friend to Jamil. Upon believing that Chief is dead, she finally gets married to Jamil. During the course of their marriage she plotted plans together with Fatrish to steal everything from Jamil. Will Dominic who knows Jankeh's plans allow her to destroy his childhood friend? What will Jankeh do when she finds out that Chief isn't dead and the only friend she trusted betrays her? After falling in love with Jamil in the long run, will she give up her plans? Find out from "BEYOND GREED" a beautiful story of betrayal, love, murder, lies, distrust and family life.