The pomp is underway
The pomp is underway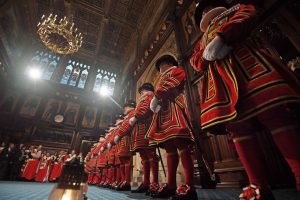 The Queen's Speech is the most pomp-filled event in Parliament's calendar, and the proceedings are well underway.
A carriage carrying the Imperial State Crown, Great Sword of State and the Cap of Maintenance is making its way to the Palace of Westminster ahead of the State Opening of Parliament.
The Crown Procession, carrying the three symbols of sovereign power, travel in their own state coach and arrive at Parliament before the Queen's arrival.
Elizabeth II will leave Buckingham Palace in just a few minutes, travelling the short distance to Parliament. She will deliver her speech just after 11:30 a.m. (6:30 a.m. ET).
Inside the House of Lords, where the speech will take place, the ceremonial search of the Palace of Westminster has taken place and the Household Cavalry have lined the Sovereign's Staircase.