We don't agree with the coalition stakeholders
Three Years Jotna expresses disagreement with Coalition stakeholders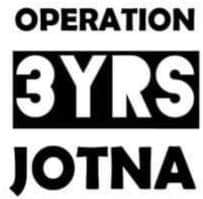 The 3 years Jotna operation's members express their disagreement with the coalition stakeholders's decision to let President Adama Barrow go for 5 years when his campaign promise was 3 years. This declaration was made at a press conference held at Semega Janneh Hall on Monday.
We are totally against the decision championed by Fatoumata Jallow-Tambanjang to extend the coalition's agreed term from 3 to 5 years, Said Hagie Suwaneh, vice chairperson of the operation at the press briefing.
He continued; "Fatoumatta Jallow Tambajang individually tasked some members of the Barrow supported camp to join her on the issue of five years.
Mr. Suwaneh said it also came to their attention that some local parties have never supported the president's five years mandate. "We will never recognize the announcement made by Fatoumatta Jallow Tambajang and her co."
He added that "Operation 3 Years Jotna" is calling on the coalition stakeholders to go back to the people for proper consultation and find a solution to this problem rather than allowing an individual to deliberately dictate citizens.
"We are calling on Fatoumatta Jallow Tambajang to withdraw her statement given on 27th day of September, 2019."
"We believe that the elected members should honor the promises they made to the people during the champagne periods," he said, adding that comments made by commander of The Gambia Armed Forces' Mamat Cham should not be greeted in a democratic country like ours; and that it be should condemned.
He stated that the role of The Gambia Armed Forces is to protect the external aggression against The Gambia but not to interfere in the country's democratic process.
QUESTION: What do Gambians think about the 3 years jotna?
live your answers in the comment box.