Vice President Isatou Touray's house vandalized by burglars
Vice President Isatou Touray's house vandalized by burglars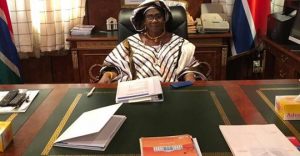 The home of Gambia's Vice President Isatou Touray, has been vandalized by unknown burglars, Freedom Newspaper can report. The house is located in Kaur Touray-Kunda, in the Upper River Region of The Gambia. It was burglarized on Wednesday night.
Doors, windows and other valuables were destroyed. Stones were on found in the destroyed property. The people, who vandalized the VP's home used stones to destroy the property. The sling fans were also damaged.
The house was well decorated. The nice and expensive sofas were spared.  The attackers turned thieves, never steal the expensive household items in the building. According to sources, the attackers stole window curtains and a sound system deck from Mrs. Touray's home.  The items were stolen during what the police called an incident that looks like an attack against the home of the Vice President.
The incident was reported to the Kaur police station on Thursday by one Sako Jobe. The police later visited the scene, where they found what they called "a wanton destruction to property."
The police are investigating the matters.
It has been gathered that a United Democratic Party (UDP) caravan was on tour of the country, when the incident happened. The UDP delegation had spent a night in Kaur, before proceeding to Janjangbureh. It is not clear if the UDP touring caravan was in Kaur, when the incident occurred.
The UDP touring team started their tour in the Baddibus. They later proceeded to the Central River Region (CRR). Kaur was among their port of call during the tour.
Gambia's intelligence said the matter is under thorough investigations. No arrest has been made yet. No one has claimed responsibility for the incident.