Who Is Marima Danso?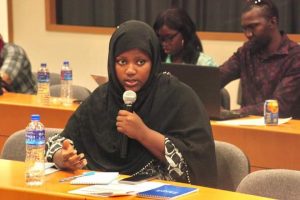 Mariama Danso is a 24 year old Gambian public speaker and Human Rights Activist, who is the current vice president of the University of The Gambia Students' Union and also a founding member of Peace Hub The Gambia. She is currently an Intern at American corner Banjul.
Mariama is presently the moderator and host for two civic engagement programs through Activista and Action Aid The Gambia which is centred on Peace, women and Youth political participation and human rights.
She is also well Known for her amazing public speaking skills and she committed herself to seeing a well informed society and citizens working on their basic rights and responsibilities towards the state. "Every person is born to a calling and I strongly believe is to use the power of my voice to speak against social and Political mishaps, advocate for a peaceful, tolerant and social justice among others" she said.
Being an outspoken young lady from a very conservative family and society, it was always a challenge for her to get her opinion on certain sensitive discussions. The struggle of fighting through stereotypes of expected gender roles and responsibilities in society was always a challenge to many women like herself.
"Sometimes you take a deep analysis of who you are and what you're able to achieve then you thank God for the struggles you've made to reach to where you want to be", she lamented.
Danso further said her parents are her greatest source of strength and wisdom and her mother is a fighter who inspired her alot.
The talented young Activist said she see herself in the next 5 years in a world of academics, doing what she love doing the most. And that is lecturing.
By Amie T. Camara