Why is it so important to find a cause you love and volunteer your time?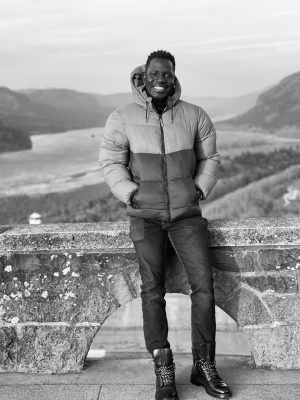 Afrinity Production draw cognizance to Sura Sumareh, a 25 year old Fatoto born who schooled at the furthest high school in the Gambia and that is Fatoto High School. He studied at the University of The Gambia for 2 years in getting his degree in Geography.
He is also the finance and operations coordinator for Kantora Action for green, a registered environmental nonprofit organization in both Gambia and the US.
Sura got his Higher Teacher's Certificate at the Gambia college and is currently studying Finance and International Economics at Portland State University in USA. He also get an associates of Science in Business (Finance) from Portland Community College.
He believe that helping his community is an opportunity for him to grow as a person, to better understand how he fit into the world around him. "Without volunteers, many of the services and events we enjoy in our communities would not be so readily available. Spending time helping out at a local market or community cleaning activities or providing an important service to less fortunate students is something that unite the community and bridge some of the social, economic and political gaps", Sura said with interest at heart.
After graduating from Gambia college, Sura requested to be posted to his home village Fatoto where he taught for Three years before leaving for the University. While he was at Fatoto, he was very active in coordinating student clubs and offering free extra classes for everyone who was interested.
Some friends and Sura, started the Competitive college club which was fully sponsored by the US Embassy Banjul. He volunteered as a Peace Corp Counterpart for Peace Corp Gambia volunteers and this became his best experience in the whole of his career to date.
As a very curious learner, he was able to grasp lots of valuable international knowledge from the many peace Corp volunteers he worked with and of course he made very great friends as well.
Volunteering for Peace Corp, leading school clubs and being engaged in other community projects landed him an opportunity to Serve as The team leader for Team Gambia at the Pan African Youth Leadership Program in Washington DC, Atlanta Georgia and Portland Oregon. This doesn't come easy, he had to compete with many applicants for this very competitive conference. After the conference, he had to go back to Gambia to implement a project as a give back to his community, which he successfully did.
While in the US for the Conference, he met this super amazing family who really liked him and offered to give him a full scholarship (200%) to sponsor his education in the US. As we interview him, he have a 200% scholarship. "Grateful for my American Family", he said.
One thing Sura can't do without is food. "I love to eat and I'm a very good cook. My best hiding place in the house is the kitchen. Cooking is a huge passion for me", he emphasized.
He was very much inspired and still inspired by his very hardworking Late mom. "My mom showed me what it means to stay strong on your goals and get that success no matter what it takes", he explained briefly.
In five years, he sees himself working for the World Bank or for some huge development projects with the United Nations.
By Amie T. Camara