Advocates sometimes get a bad rap. However, many advocates work long hours fighting for justice, defending those who need it most, and upholding the rule to humanity.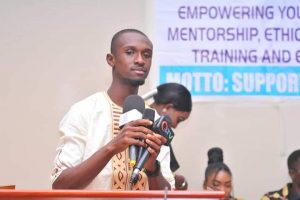 In honor of being kind as advocates, Afrinity Production draw attention to Muhammed Lamin Dibba, a Political Science graduate, Consultant and youth leader. He was an advocate on government policies especially youth employment and representation in politics.
The other remarkable aspect of Advocate Modou Lmain Dibba is a willingness to help young students and Youth. Some of them went on to having job that helps them earn ends meet.
It was not long before young Dibba's brilliant mind came to be noticed by his Senior Advocates and others and he started getting a steady stream of work from the solicitors and seniors in helping others.
He advocate for passion and also to contribute to the national development and have been in it for over 6 years now
Inspired by the poverty of his extended family in farafenni and his desire to change the narrative. He is the first son to hold a degree in his family alongside his cousin brother.
He worked with CSO organization such as the Legacy Gambia, National Youth Parliament, UNESCO National Federation, Young Citizens for Development and Badibou Musol organization. He is currently engaged with International Organization for Migration communication unit.
Muhammed Lamin look up to Dr. Ismaila Ceesay, Ndey Jobarteh and Saikou Jabai.
His burning desire is to become an expert in migration and development, diplomacy and foreign relations.
By Amie T. Camara