Belle of African Nations (BOAN) 2015 Team Due In Banjul, The Gambia Today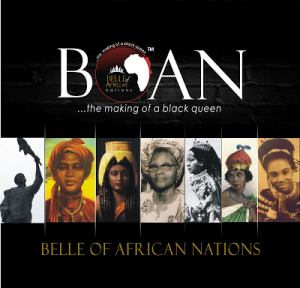 Belle of African Nations (BOAN) is the first of its kind Pan-African beauty pageant that celebrates female heroism through the lenses of arts and culture in a bid to enlighten and empower the female gender. The 2015 (maiden) edition celebrates the life and times of Madame Efunroye Tinubu, the first Iyalode of Egbaland (Nigeria) with the theme: Madame Tinubu: Heroine in the midst of Heroes.
BOAN does not just celebrate the past heroines of Africa; it also recognizes and awards the efforts of present day women, who are making conscious efforts to affect their world, from all walks of life. Being the backbone of Arts and Culture in the Gambia, our organisation deems it fit to associate with your person and office and intimate you on the activities of BOAN.
Gambia, being one of the participating countries at BOAN 2015, will be hosting the organisers of BOAN from the 18th through the 23rd of September to facilitate publicity.
Meet the team:
Olayinka Fatima Edu – Founder/CEO
Olayinka Fatima Edu is the Founder/CEO of Platinum entertainment Nigeria limited, a Lagos based company, which started years ago, with the aim of giving quality and precise information / services, combining ideas to match international standards anywhere in the world and becoming the biggest entertainment house in Africa.
She was in New York recently to discuss international partnership on BOAN 2015. See more photos below:
Mr. Peter Akpobasah
Mr. Peter Akpobasah is a graduate of the University of Ibadan and a holds an MBA. He started his career at Multichoice Nigeria Limited as a member of the pioneer sales Team of the Sales and marketing Department, in 1994. His outstanding performance was phenomenal as he won all the monthly Sales awards for the best Sales person, back to back, until the awards were discontinued after the thirteenth month. In 1995, he was sent to South Africa for a Sales Conference in recognition of his enormous contribution to the growth of the company.
His leadership qualities were spotted early at Multichoice Nigeria Limited, when he was allowed to operate the first Direct Sales Outlet in Africa. This novel initiative as well as many of his ideas were institutionalised and still remain the bedrock of Sales policy execution at Multichoice Nigeria today.
Over the years he has trained, influenced, assisted and positioned over 200 business persons nationwide. He has served in different capacities as Sales Manager, Head of Sales, Operations manager in several organisations, notable among which are: Multichoice Nigeria Limited as Direct Sales Head and trainer; Entertainment Highway Limited, as National Sales Manager, Infinity TV as Head of Sales.
He is the Director of Projects at Belle of Africa Nations (BOAN).