Coronavirus has built a fracture between the US and China that may take a generation to mend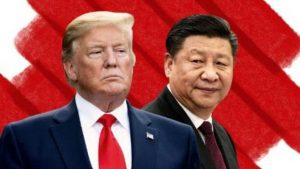 The novel coronavirus has taken a lot of lives and livelihoods in both the United States and China.
But rather than bonding the two nations together to overcome the pandemic, it has sent their already stress relations on a rapid sinking spiral — and fanned the flames of a potentially dangerous strain of nationalism.
China has been denounced at home and abroad over its controling of the virus, especially during the initial escalation.
"Pushing back such criticism with increasingly fierce rhetoric, Beijing says it is merely "responding" to false accusations, particularly from the US."
A few days later, US President Donald Trump refered the coronavirus the "Chinese virus," putting the blame on China as the escalation began to take hold in major American cities.
But the ill feeling goes deeper than a mere war of words. "The Trump administration is reportedly drawing up plans to punish China for the pandemic — retaliation options include sanctions, canceling US debt obligations and drawing up new trade policies. Trump and several administration officials are also enlisting foreign allies to join the pressure campaign against China."
Source___CNN