Jammeh gets life ban, faces criminal trial
Jammeh gets life ban, faces criminal trial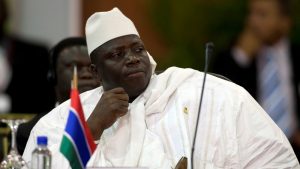 The Gambia government has published its white paper on the Janneh Commission report which looked into the financial activities of former president Jammeh, his family and close associates.
The government accepted to seize assets of former president Jammeh to compensate for about a billion dalasi and hundreds of millions of foreign currency the commission found him to have taken from public funds.
According to the Janneh Commission, the damage former President Jammeh has caused to Government institutions, public resources and state-owned enterprises is of such serious nature that the government ought to introduce a motion before the National Assembly for charges to be brought against him for theft, economic crimes and corruption.
"The government accepts the Commission's recommendation that criminal proceedings be instituted against former President Jammeh for theft, economic crimes and corruption," the government said in the white paper that contains its decision on the Commission's recommendations.
Government also said it has accepted the commission's recommendations that former president Jammeh is banned from holding public office in The Gambia for the rest of his life .
According to the Accountant General, in July 1994 when Jammeh took over power, his salary was D2, 744.20.
However, during his tenure as head of state, Jammeh acquired 281 landed properties throughout the country and two properties outside the country (one in US and one in Morocco).
According to the Commission fifty-one of the 281 properties owned by Jammeh were purchased for the total of D195, 500, 000 despite the fact that his legitimate earnings were insufficient to acquire properties worth that amount.