South Korea's Parasite Takes over the Oscar award night
Oscars 2020: South Korea's Parasite makes history by winning best picture.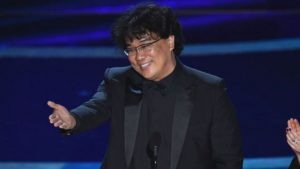 South Korean film Parasite has been named best picture at this year's Oscars, becoming the first non-English language film to take the top prize.
Renee Zellweger won best actress for playing Judy Garland in Judy. Joaquin Phoenix was named best actor for Joker.
Brad Pitt and Laura Dern scooped the supporting acting awards for their roles in Once Upon A Time in Hollywood and Marriage Story respectively.
Parasite won four awards in total, while Sir Sam Mendes's 1917 took three.
The World War One epic had been the favorite to win best picture, but its awards all came in the technical categories.
Parasite's Bong Joon-ho beat Sir Sam to the prize for best director, and also took the best original screenplay award.
The film is a vicious social satire about two families from different classes in Seoul – one who live in poverty in a semi-basement, and another rich family residing in a large home.
It has now managed what no other subtitled film has done in the 92-year history of the Academy Awards and won best picture.
"I feel like I'll wake up to find it's all a dream. It all feels very surreal," Bong said.
Producer Kwak Sin-ae, who collected the trophy, said: "I'm speechless. We never imagined this to happen. I feel like a very opportune moment in history is happening right now."
There were boos when organizers tried to cut short the best picture acceptance speech by turning the stage lights off – leading the lights to be turned back on, allowing the celebrations to continue.
Pitt won the first acting Oscar of his career – picking up the best supporting actor trophy for his role in Quentin Tarantino's film.
He was the first winner of the night, and immediately used his speech to attack the way the impeachment proceedings against US President Donald Trump were handled.
He referred to the fact that Republican senators voted against allowing witnesses including former National Security Adviser John Bolton to give evidence.
"They told me I only have 45 seconds up here, which is 45 seconds more than the Senate gave John Bolton this week," he said. "I'm thinking maybe Quentin does a movie about it and in the end the adults do the right thing."
The 56-year-old moved from the political to the personal, paying tribute to co-star Leonardo DiCaprio and reflecting on his journey to Hollywood superstardom.
"I'm a bit gobsmacked," he said, getting emotional. "I'm not one to look back, but this has made me do so."