Queen wraps up speech and leaves House of Lords
Queen wraps up speech and leaves House of Lords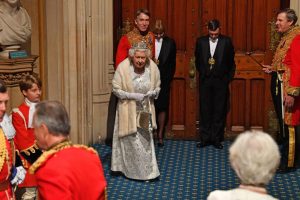 Elizabeth II has finished delivering her Queen's Speech, in which she announced plans for 26 bills — most of which focused on domestic policies.
She has now left the throne in the House of Lords, alongside her son, the Prince of Wales.
MEANWHILE; Lawmakers return to House of Commons
MPs are filing back into the House of Commons, where they will spend days debating the contents of Boris Johnson's Queen's Speech.
There is plenty in there to discuss — including bills on important issues such as domestic abuse, pensions, healthcare, the environment and animal welfare.
Several bills were also dedicated to criminal justice, as Johnson continues to make law and order a central plank of his pitch to the public.
But it's fairly unlikely that none of these bills will see the light of day in this Parliament, thanks to the very first part of the agenda — Brexit — which is expected to force a general election in the coming weeks.