The Ellen Show: Three producers remove over 'toxic workplace' allegations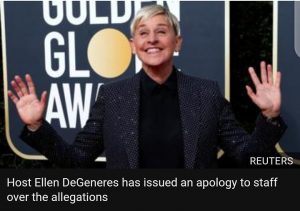 Credit to BBC
August 18th 2020
Three well known producers of the Ellen DeGeneres Show have been fired in the mist of claims of misconduct and sexual harassment.
Ms DeGeneres disclose the overhaul in a video meeting with staff, and said an internal investigation was under way.
In a message to staff according to BBC, she said she was "so sorry for what this has become," according to the Hollywood Reporter.
A spokesperson for Warner Brothers confirmed the show has "parted ways" with executive producers Ed Glavin and Kevin Leman, and co-executive producer Jonathan Norman.
In a story release earlier this year, several former employees told Buzzfeed News they had undergo racism while working on the show, which has won over 60 Emmy Awards since it first aired in 2003.
In an email to staff, David McGuire, executive vice president of programming at Warner Brothers, said the studio was "absolutely committed" to "change and a new culture.
"Many of you have spoken with WarnerMedia's investigators, and we thank you for your honesty," he added, according to Buzzfeed News. "I hope this note is another way we are showing our commitment to do better."
By Amie T. Camara