INDEPENDENCE DAY ADDRESS BY HIS EXCELLENCY, MUHAMMADU BUHARI, PRESIDENT OF THE FEDERAL REPUBLIC OF NIGERIA ON THE OCCASION OF NIGERIA'S SIXTIETH INDEPENDENCE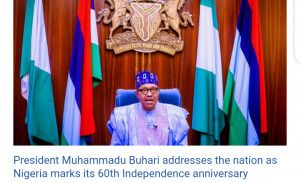 ANNIVERSARY, THURSDAY
1ST OCTOBER 2020
Fellow Nigerians
I speak to you today as your President and fellow citizen on this epoch occasion of our country's 60th independence Anniversary. As President, I wish to renew my appreciation to Nigerians for entrusting me with your hopes and aspirations for a better and greater Nigeria.
Today, it is my unique privilege to re-commit myself to the service of this great country of great people with profound diversities and opportunities. We are bound by destiny to be the largest and greatest black nation on earth.
At this stage in our nationhood it is important that we reflect how we got here to enable us work TOGETHER to get to where we aspire to be as a strong indivisible nation, united in hope and equal in opportunity.
On October 1st 1960 when Prime Minister Alhaji Abubakar Tafawa Balewa received the constitutional instruments symbolizing Nigeria's independence, he expressed his wish that having acquired our rightful status as an independent sovereign nation, history would record that the building of our nation proceeded at the wisest pace.
This optimism was anchored on the peaceful planning, full and open consultation and harmonious cooperation with the different groups which culminated in Nigeria emerging as a country without bitterness and bloodshed.
Our founding fathers understood the imperative of structuring a National identity using the power of the state and worked towards unification of Nigerians in a politically stable and viable entity.
That philosophy guided the foundation that was laid for our young nation of 45 million people with an urban population of approximately 7million occupying an area of 910,768 square kilometers. These demographics led to development challenges for which major efforts were made to overcome.
Today, we grapple with multiple challenges with a population exceeding 200million occupying the same land mass but 52% residing in urban areas.
I chose the path of self-reflection because this is what I do on a daily basis and I must confess that at most times, I always felt the need for a collective reflection as I know that the foundation for a solid future which this administration is laying can only be sustainable if there is a collective commitment by Nigerians.
Nigeria is not a country for Mr. President, any ruling or opposition party but a country for all of us and we must play our part, irrespective of challenges we face, to make this country what we desire.
Source__Channels TV