Nine deaths confirmed in Guinea 'third term' protests
Nine deaths confirmed in Guinea 'third term' protests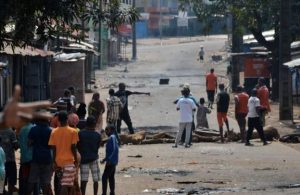 Nine deaths confirmed in Guinea 'third term' protests
Guinea's government has confirmed that nine people have been killed during this week's demonstrations against a possible change to the constitution.
Witnesses say police opened fire on the protesters as they blocked roads with burning tyres and ransacked military posts in the capital Conarky, according to news agency Reuters.
Opposition parties say at least 10 people have been killed, including a 14-year-old boy. They also say police raided victim's families' homes, Reuters says. The government has not responded to the allegations.
The demonstrators are protesting against the possibility of President Alpha Conde running for a third term. Mr Conde, 81, took office in 2010 and his final five-year term should end in 2020. He has, however, not ruled out a third term and has asked his government to look into drafting a new constitution which critics say aims at letting him run for a third term.